Reception & Administration Wing, Café & Store
Located by the entrance, the Reception & Administration Wing is the operations centre of the Institute. It also houses a cheery Café and a Store for the display and sale of the creations made by the young adults.
Female & Male Dormitories
Each room, with an attached bathroom, accommodates young adults on a twin- or triple-sharing basis. A bed, a study table and chair, a book shelf and a wardrobe are allocated for each student. Cheerful and spacious interiors with natural light and ventilation are enhanced by colourful wall graphics. A courtyard in each dorm provides the space for lively interactions and for improving social skills while also generating a sense of familial bonding. Each dorm houses a resident Caregiver (couple) and an Assistant Caregiver for 24/7 assistance.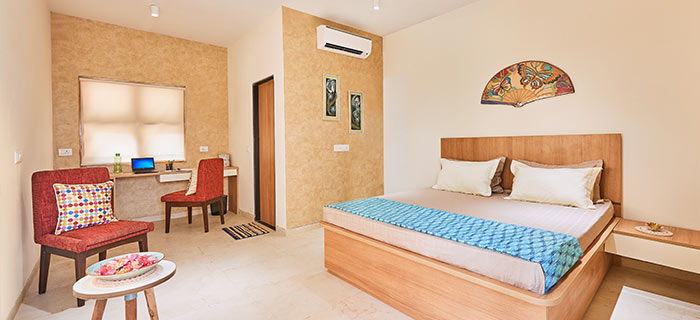 Guest House
Situated on the curve of a gentle slope with scenic views of the verdant surroundings, the Guest House, with individual rooms with attached bathrooms, is thoughtfully designed to ensure a comfortable stay for parents and visitors.
Faculty Suites
Situated at one of the highest points of the site overlooking the Dining Block, the Faculty Suites are in close proximity to the male and female dormitories as well as the Workshop Blocks. The units, with a living room, bedroom and kitchenette, are functional and spacious.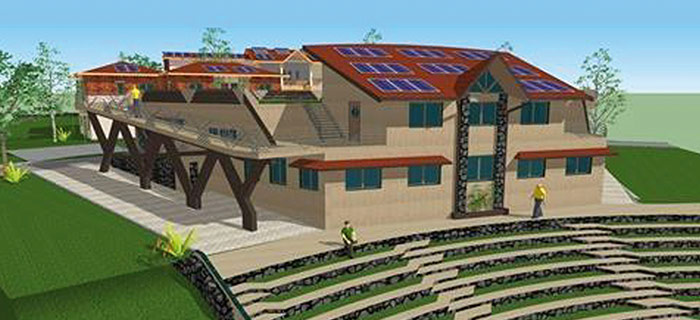 Dining Hall & Amphitheatre
The Dining Hall is conveniently situated at the centre of the site, close to the workshops and the dorms. The adjoining kitchen area ensures that all meals served are fresh and hot. The Amphitheatre is the social hub of the Institute and an ideal venue to host events and performances.
Therapy & Wellness
The Institute lays special emphasis on the holistic wellbeing of the young adults. A daily regime of yoga and outdoor activities are combined with a host of prescribed therapies and activities such as music, dance, drama, among others, and administered at the Therapy Centre in accordance with specific requirements.
Skill Development Workshops
Arranged in a cluster-like formation, the Workshop Blocks comprise large, airy high-ceilinged spaces with natural lighting and ventilation in addition to inspiring views that make learning and working a joyful and stimulating experience. Each workshop is issued with the necessary tools, equipments and materials to facilitate the training process.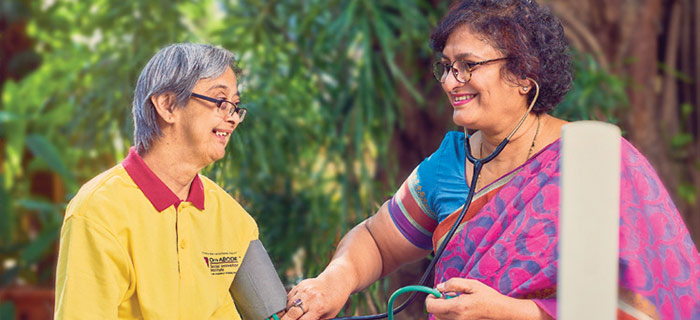 Medical Facilities
The health, fitness, mobility and flexibility of the young adults is of prime concern and given the utmost priority. An in-house team of doctors and medical support staff are briefed to conduct regular check-ups to ensure that your child's health is in safe and caring hands.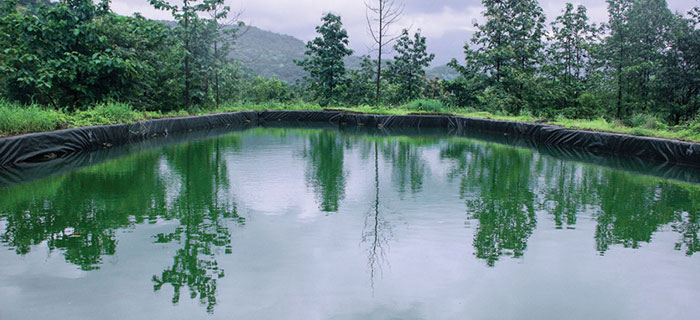 Water & Energy Management
Om ABODE adopts an ecologically-sensitive approach in utilizing the natural resources on site. A sustainable and regenerative environment is maintained through efficient rain and groundwater management as well as treatment of waste water and use of solar energy.