The Skill Development Centre at Om ABODE offers specialized training in the following areas:
Visual Arts
The Visual Arts program encompasses the creation of a rich and diverse mix of finely crafted lifestyle products. Working with multiple mediums and disciplines, products are crafted with the minutest attention to quality and detail. With the belief that engaging in art activities is healing and therapeutic, the Young Adults are allotted activities that strengthen their core expertise in the various visual art disciplines such as painting, embroidery, crochet etc.
View Course Structure
---
Craft
The Craft curriculum focuses on engaging and training students to create individually crafted decorative and utility items made out of fabric, paper, board, thread, jute, beads and other material. The designs are inspired by traditional craft objects as well as contemporary interpretations of the same. Underlined by a sense of purpose to work with orderliness and compassion, skills such as embroidery, sewing, crochet, knitting, paper craft, tie and dye, fabric painting, among many others, are imparted and transformed into creative crafts. The repetitive 'in and out' movement involved in needlework functions as a therapeutic exercise while the intricate threading of beads and the precision required for paper craft and crochet helps improve focus and concentration.
View Course Structure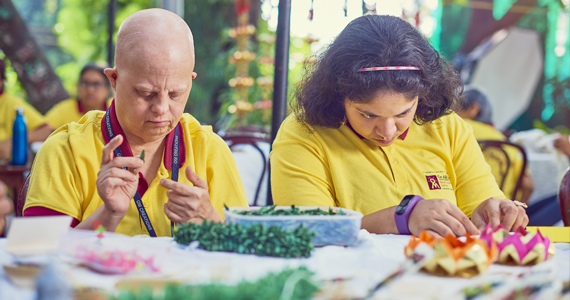 ---
Ceramics
The Ceramics program is designed to equip Young Adults with the techniques, skills and nuances to be on par with professional standards. Most Young Adults have soft fingers that enable them to work skillfully and artistically with their hands. Over time, they gain artistic brilliance and control over the medium to manifest their skills and passion by creating ceramic art objects and products that are fast gaining immense popularity.
View Course Structure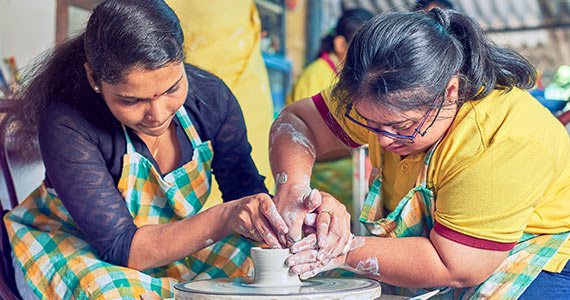 ---
Hospitality & Catering
The Hospitality & Catering program imparts hands-on training in the area of Food & Beverages and also inculcates housekeeping skills. The kitchens and workspaces are fitted with state-of-the art equipment to match the norms and standards of the food industry. The exposure and experience gained whilst learning allows Young Adults to work with confidence within a professional set-up post their training.
View Course Structure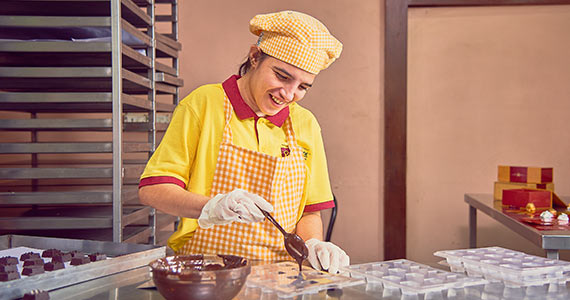 ---
Occupation-Oriented Training


(Information Technology, Office Procedures Course)

The job-oriented program imparts hands-on training in Information Technology and office-related skills. The course offers structured training, familiarizing Young Adults with technology through the use of computers, tablets and other electronic communication devices. It also grooms them in self-expression, administrative skills, communication skills, banking and social skills.

View Course Structure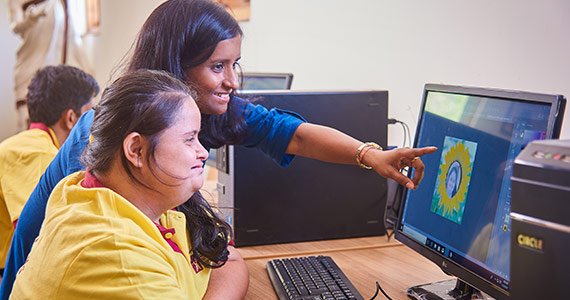 ---
Agriculture & Gardening


(to be announced shortly)

The underlying principle of the program is based on the approach that believes in involving those with multiple disabilities in the building of a healthy environment. Students will learn to work closely with nature under guided supervision to assist in the nurturing and sustaining of an agricultural space within the verdant environs of
Om ABODE.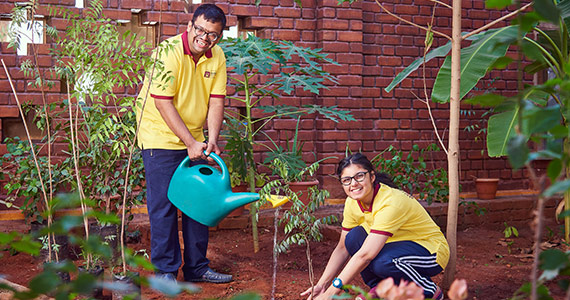 ---
Laundry


(to be announced shortly)

The Laundry program covers the basic skills that will be taught at the Skill Development Centre along with follow-up sessions. However, practical training sessions will be conducted in association with a laundry centre near Om ABODE Institute.